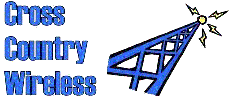 Cross Country Wireless HF APRS SDR program
The HF APRS SDR program is a simple to use freeware Windows program to allow a software defined radio (SDR) receiver to receive HF APRS transmissions on the 30m amateur band. The received audio can then be fed to another digital mode program for decoding.
Features include:
Easy set-up using SDR receivers with centre frequencies between 10.1277 and 10.1476 MHz

Use with CCW 30m SDR Receiver

High performance DSP filter with bandwidths specifically designed for HF APRS reception

Enter SDR receiver crystal frequency for accurate tuning

Uses minimal computer resources, no FFT or waterfall displays, uses Microsoft DirectX software

Settings saved to allow automatic computer re-boot on unattended Igates

Compatible with APRS Messenger

Tested on Windows 2000 and Windows XP

This program does not work on Windows Vista or Windows 7
Contact Chris Moulding, G4HYG via Email address hidden from spambots for more details or to provide feedback on the program.
Click to join cross_country_wireless
APRS is a registered trademark of Bob Bruninga WB4APR. Click here to view Bob's website.
APRS is an international network of amateur radio stations providing real-time GPS based vehicle or event position reporting, weather reporting and simple message handling for educational, experimental or emergency use. APRS uses a common radio frequency of 144.800 MHz throughout Europe. Digital repeating (digipeating) is used to extend the range of mobile and low power stations over a wider area. In addition to the radio network internet gateways provide a two-way port to the APRS-IS (APRS Internet System) so that stations local to the gateway can be seen worldwide on APRS viewing programs such as Xastir or UI-View.

APRS over PSK-63 is a new mode allowing mobile or fixed station APRS operation on HF from remote areas away from the coverage of the VHF APRS network. Using 10.1497 MHz as a common frequency in Europe and the USA a typical range of 400 to 2000 miles from fixed and mobile stations using modest equipment can be expected. There are several Igates operating in Europe, Australia and the USA transferring received packets and messages from 10.1497 MHz to the APRS-IS.