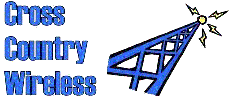 Mobile satgate using an Open Tracker 2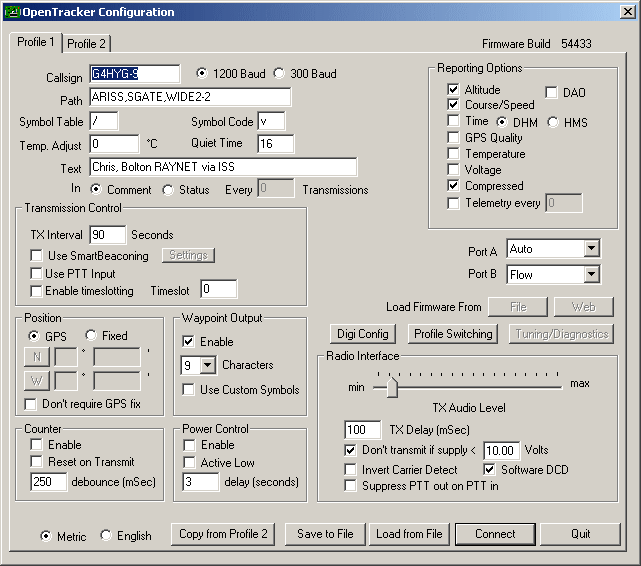 Recently amateur radio equipment on board the International Space Station (ISS) has been set up to digipeat amateur radio APRS packets on 145.825 MHz. Bob Bruninga, WB4APR the inventor of the APRS system has made an appeal for radio amateurs worldwide to set up internet gateways on 145.825 MHz to forward the signals received from the ISS to the internet. You can't refuse an appeal from the guy who invented APRS so we have set up a 24/7 ISS receive only internet gateway using the callsign G4HYG-1!

We have also modified the APRS mobile station in the survey vehicle to act as a mobile satgate. This digipeats signals received from the digipeater on the International Space Station on 145.825 MHz to the internet via the terrestrial radio network on 144.800 MHz.

The equipment used is a 5/8 wave vertical whip antenna on the roof of the vehicle feeding a Yaesu FT-8100R dual band transceiver. An Open Tracker 2 TNC made by Argent Data is used as a TNC to interface with the Motorola Oncore GPS receiver.

How is it done?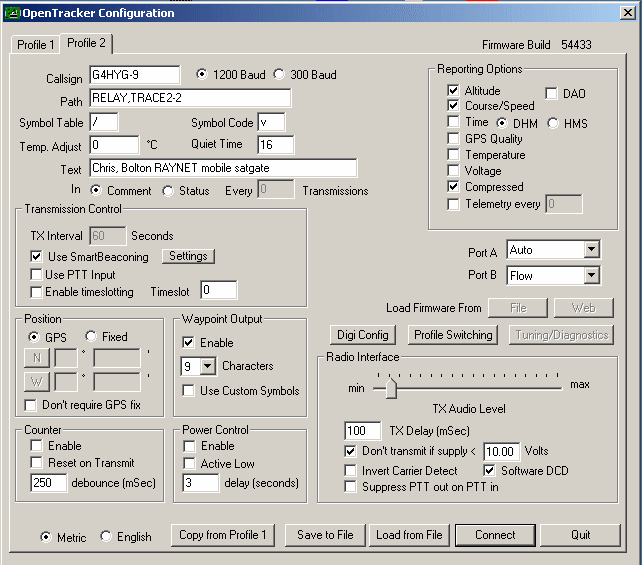 Three memory channels are set up in the Yaesu FT-8100R transceiver. Channel 1 is transmit and receive on 144.800 MHz (144.390 MHz in the Americas) for normal operation via the terrestrial APRS network.

Channel 2 is transmit and receive on 145.825 MHz for operation via the digipeater on the International Space Station when operating outside the coverage area of terrestrial APRS network.

Channel 3 is transmit on 144.800 MHz (or 144.390 MHz) and receive on 145.825 MHz for mobile satgate operation. This is set up by using the option to set up a non-standard repeater shift. Two separate frequencies are entered in the memory for transmit and receive.

The Open Tracker 2 has two switchable profiles that are set up as shown on the screen plots.

Profile 1 is used for mobile APRS operation via the International Space Station. The transceiver is set to transmit and receive on 145.825 MHz. A beacon with the current GPS position is sent every 90 seconds. This is digipeated via the ISS and sent to the internet by a satgate. The digipeater alias in the Open Tracker 2 are switched off in Profile 1.

Profile 2 is used for mobile terrestrial and mobile satgate operation. The beacon with the current GPS position is transmitted using the SmartBeacon protocol to reduce excessive radio traffic. The Open Tracker 2 digipeater alias are on in Profile 2 with the following eight alias: RELAY, TRACE, RAYNET, WIDE, BEACON, RS0ISS, SGATE, 4XTECH
RELAY, TRACE and WIDE are the usual terrestrial digipeater alias. RAYNET is included for UK emergency radio use. BEACON, RS0ISS and SGATE are used by the ISS digipeater. 4XTECH is added as this is currently used by PAC-SAT 1. (If I had the room in the Open Tracker 2 I could have added W3ADO for when the PAC-SAT 1 is back in normal use and ANDE-1 for the satellite due to re-enter in about two weeks time). Preempt is enabled on all alias so that received packets are digipeated even if it isn't the next address on the list.

Profile 2 can be used in two ways. In normal mobile operation the transceiver receives on 145.825 MHz and transmits on 144.800 MHz (or 144.390 MHz). The mobile tracking beacon is transmitted to the terrestrial network as usual. When packets are received from the International Space Station these are digipeated to the terrestrial APRS network.
If portable terrestrial digipeater operation is required the transceiver is set to transmit and receive on 144.800 MHz (or 144.390 MHz). Received stations using RELAY, TRACE, RAYNET or WIDE are digipeated as normal.

Does it work?

Yes. Recent trials have shown that the mobile satgate can send ISS packets to the terrestrial APRS network and add some diversity to the satgate network. While it's not too much of a problem in Western Europe with several active satgates a setup like this could provide the only satgate in other parts of the world.
In addition setups for a simple beacon station for the ISS, mobile tracker and portable digipeater can be utilised with just the two profiles on the Open Tracker 2.

This satgate setup is based on an original idea by A.J.Farmer AJ3U. Click here to view his webpage with a satgate setup for the Kenwood TM-D700 transceiver.

I would be interested to hear if anyone else builds a similar satgate. Contact Chris Moulding, G4HYG via satgate@no_spam_crosscountrywireless.net if you get another satgate on the air! Mark Rice, N4CMB in Greenville, Texas did. He built an identical system with a FT-8100 and an OT-2 for mobile use in his truck.

Click here to see where the mobile satgate G4HYG-9 is!

APRS is a trademark of Bob Bruninga, amateur radio callsign WB4APR. Click here to view Bob's website.


Back to Index or Next