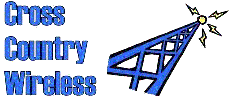 Cross Country Wireless...About Us
Business Description

Cross Country Wireless is a small family owned partnership specialising in the manufacture of high performance RF products for the amateur radio, commercial and military markets.
We originally formed as Cross Country Radio Services Ltd in 1997 when our main business was supplying specialist radio survey services and in-building coverage system design, build and commissioning to mobile telecom operators. To control costs in a very uncertain market we always ran a small management and design team bringing contract staff in as required.
We had contracts with several major mobile telecom operators and designed and built the first TETRA in-building system in the world in 2000 and also what is probably still the largest in-building TETRA system in commercial use in the world in 2002.
The company name was changed to Cross Country Wireless Ltd in 2004 to reflect changes in the mobile telecom field.
In 2007 we started the manufacture of RF filters to supplement our engineering contracting work.
In 2009 when the RF engineering work we were doing for UK telecom operators was outsourced to other countries we decided to focus our business on the manufacture of high performance RF products and change the company from a limited company to a partnership, Cross Country Wireless.
We were able to bring our experience of new RF technologies used in the 4G and 3G mobile telecoms field to rapidly produce a range of new innovative products such as the SDR-4+ HF receiver, HF/VHF Multicoupler and the HF Active Antenna.
Privacy policy

We do not store credit card details nor do we share customer details with any third parties.
Due to EU law we do keep a securely stored paper record of customers who buy our SDR-4+ receiver, HF/VHF/UHF Multicoupler and HF Active Antenna as these products use a dual use (commercial/military use) component.
Delivery policy

We use Royal Mail and Parcelforce for our deliveries. Where possible we try to deliver from stock within two working days but if there is a rush on one of our products due to a magazine or website review then dispatch can be delayed by up to ten working days. The delivery terms are the cost to us charged by the Royal Mail plus the cost of the packaging. We send by recorded deleivery so we can provide a tracking number if required. Delivery to the USA may be delayed by security checks,
Return/Refund/Cancellation policy

In addition to statutory rights we guarantee our products for 12 months from the date of order. If you have ordered the wrong product please let us know and we will refund the original purchase price if it is returned undamaged to us within 10 days. If you have a problem with one of our products we will always try to help even if you bought it elsewhere. If you decide that you want to cancel an order please let us know as soon as possible.
Tax information

VAT registration number: 227 4032 34 GB

EORI number: GB227403234000
Contact information

If you need to contact us with questions about privacy policy, return policy, availability of goods etc please contact us by the following methods:

Email (usually answered within two days): Email address hidden from spambots


Mobile/Workshop: +44 (0)7752 391908 between 9 AM and 5 PM UK time

Fax: +44 (0)1204 410626 between 9 AM and 5 PM UK time
Mail address: Unit 24562, PO Box 4336, Manchester, M61 0BW, England
If you are returning an item please contact us by email for the direct mailing address.

Support Groups.io group: Click to view and join the Cross Country Wireless Groups.io group
Contact Chris Moulding, G4HYG via info@crosscountrywireless.net for more details.