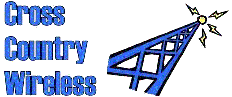 RF diplexers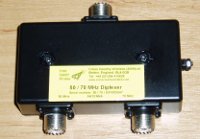 Cross Country Wireless produce a range of high performance RF diplexers and triplexers.
Please note that we no longer supply diplexers to the amateur radio market.
High performance CAD designed diplexer using 8 pole Chebyshev high pass and low pass filters

Ideal for fixed, mobile or portable stations operating multi-band transceivers

Passband insertion loss less than 1 dB (typically 0.5 dB)

Isolation better than -40 dB (typically -55 to -60 dB)

100 Watts RF max

Optional lightning surge arrestor built in for added protection

N type female connectors

Painted aluminium case sealed to IP65 standard (dust tight and protected against water jets)

RoHS certified free from certain hazardous substances banned by the EU

Each diplexer is supplied with a test certificate detailing its RF and VSWR performance

Carefully made in the UK
Please note before ordering that all diplexers are usually built to order. Dispatch can be up to two weeks after order.
When ordering please state the type of RF connectors required (N type females, N type male/female, S0239, BNC female or TNC female).
If you require more detailed information or need a special one-off diplexer or filter please contact us by email at info@crosscountrywireless.net