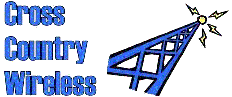 Dual polarisation HF Active Antenna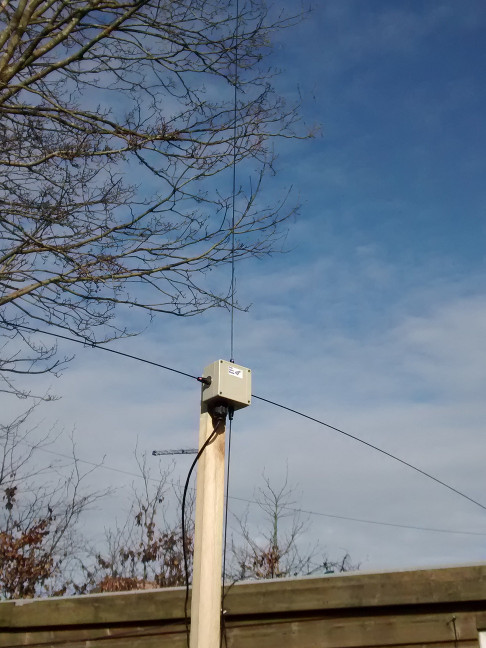 Product discontinued, web page for information only. Look at our new Loop Antenna Amplifier...
Cross Country Wireless have released a Dual Polarisation HF Active Antenna with a frequency range of 10 kHz to 70 MHz.
Recently we were asked by one of our customers to design an active antenna for HF progagation experiments looking at the effects of diversity reception between horizontally and vertically polarised antennas. The dual polarisation HF active antenna is effectively two of the latest versions of our HF Active Antenna combined into one unit.
This antenna is ideal for HF diversity reception for long haul HF data links, broadcast reception, propagation studies or amateur radio experimentation.
An ethernet cable is used to connect the antenna to a base unit. This allows 12V power to supply the amplifiers while two balanced pairs within the cable are used as separate RF feeders within the same cable. The antenna uses isolation transformers to isolate the antenna elements from extraneous RF noise picked up by the feeder cable or from the electrical supply to the base unit. A new element isolation transformer cancels out the effects of capacitively coupled local RF noise from nearby electrical wiring.
Crosstalk measurements between the horizontal and vertical antenna inputs and RF outputs are typically 40 dB down across the full frequency range.
The antenna power requirements are 10 to 16V at 150mA.
Like our other active antennas the antenna has RF over-power protection on the antenna element and the RF output on the base unit.
Two BNC female connectors are used for the RF output ports on the base unit.
The antenna head unit is fitted with two M6 studs 40mm apart to allow mounting on a timber, fibre glass or other insulating support.
The antenna is supplied with a 20m outdoor grade ethernet cable.
The antenna is supplied with a 20m outdoor grade ethernet cable.
Using a dual polarisation antenna with two receivers with headphones is interesting. Background white noise appears as a wide stereo field while wanted signals appear in the centre of the stereo image. It was easier to read a weak signal low down in the noise especially during fading as often fading is due to polarisation changes over ionospheric paths. When antennas of different polarisation are used with this receiver the effects of fading are minimised.
Here are some short recordings of a SDR-4++ receiver used with our dual polarisation antenna. The test location is just outside our workshop so there is some noise on the vertical antenna. It best to listen to these files with headphones.
Sample diversity recording using a SDR-4++ receiver and CCW Dual polarisation antenna RAF VOLMET 5.450 MHz strong signal single hop
Sample diversity recording using a SDR-4++ receiver and CCW Dual polarisation antenna US station on 20m SSB
Sample diversity recording using a SDR-4++ receiver and CCW Dual polarisation antenna 9H5DZ Malta on 20m SSB with interesting multi-path echo
Sample diversity recording using a SDR-4++ receiver and CCW Dual polarisation antenna HZ1BL Saudi Arabia on 20m SSB
If you require more detailed information please contact us by email at info@crosscountrywireless.net