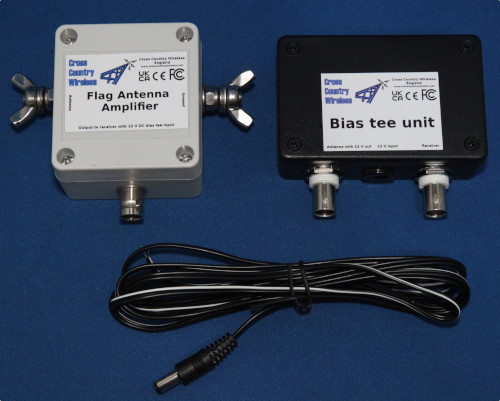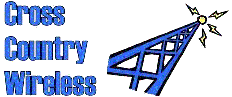 Cross Country Wireless Flag Antenna Amplifier
The Flag Antenna Amplifier contains all the electronics needed for home DIY construction of a flag, pennant, K9AY or Kaz type low noise receiving antenna.
The amplifier consists of two units, a weatherproofed outdoor head unit for connection to a suitable loop and a bias tee unit to provide DC power up the coaxial cable to the outdoor unit. The head unit can also be used on it's own powered by the internal bias tee inside a SDRPlay receiver.
The outdoor unit is housed in a polycarbonate box with stainless steel antenna connections and a BNC socket. The bias tee unit is a PCB with two BNC connectors and a DC socket to take DC power from a battery or power supply.
Like our other active antenna products it has RF overload protection to allow it to be used very close to transmit antennas without damaging the amplifier or the attached receiver.
The Bias Tee unit is intended for use with a 12 V feed which allows the head unit amplifier to have a greater dynamic range than with the 5 V available from a SDRPlay receiver. The components in the internal bias tee inside a SDRPlay receiver limits the minimum frequency to 500 kHz. Using our bias tee unit allows the antenna amplifier to work over it's full range. This is ideal for fixed station operations with large versions of the Flag and Kaz antennas and high performance base station receivers or transceivers.
The advantage of using this amplifier in a Flag antenna over a 9:1 transformer is that as well as having extra gain at the antenna the amplifier has RF filtering and a common mode choke to reduce the effect of common mode RF noise entering the antenna down the coax feeder.
Specifications:
Frequency range (Loop Antenna Amplifier ++): 50 kHz to 55 MHz

Input impedance: 800 ohms

Output impedance: 50 ohms

OIP2: >+70 dBm

OIP3: >+32.5 dBm

Gain (head and base units Loop Antenna Amplifier ++): 25 dB at 14 MHz

Noise figure: 0.79 dB

Supply voltage (head unit): 4.5 to 15V from a bias-tee feed via the coaxial cable

Supply current (head unit fed with 5 V from bias-tee ): 25 mA

Supply current (head unit fed with 13.8 V from bias-tee): 100 mA

Flag antenna outdoor unit connectors: Two M6 stainless steel threaded studs and BNC female (RF out 50 ohms)

Flag antenna amplifier bias tee board connections: BNC female (RF input and DC feed to outdoor unit), BNC female (RF output to receiver), DC connector (for 4.5 to 12 V DC power input)

For our professional and commercial customers we now have a Wise.com account so we can accept bank transfers in local currencies worldwide.

Contact us for a quotation.
More information of Flag, Pennant and Kaz antennas
Many radio amateurs think that the Flag antenna was originally designed in the 1980s.
The original design was patented by Harold.H.Beverage of RCA back in 1941 with the original patent application made in 1938.
Yes, it's the same man who designed the Beverage Wave antenna back in 1921.
Click here for a copy of Harold Beverage's patent.
Earl Cunningham, K6SE independently developed the Flag antenna through antenna modelling various antennas in the 1990s. He was probably unaware of Beverage's previous work.
Here is a link to an excellent article on Flag, Pennant and Ewe antennas by W8JI
As the Flag and Pennant antennas designed by K6SE were intended for the 160 and 80m amateur bands Neil Kazaross developed the Kaz antenna for medium wave DXing.
Here is a link to an article on Kaz and SuperKaz antennas by John Bryant
One version of the Flag antenna modelled by Earl Cunningham, K6SE was later built by W2PM and called the Mini-Flag.
This used a diamond loop of wire with sides of 5 feet or 1.5 m. The feed point was at one corner with a 680 ohm resistor at the opposite feed point.
We used a version of this during the testing of the Flag Antenna Amplifier.
As the antenna is small in size the received signal level is low and it is a good test of the amplifier and it's internal common mode choke.
We expect to have a video demonstrating the amplifier with this antenna soon.
Contact Chris Moulding via info@crosscountrywireless.net