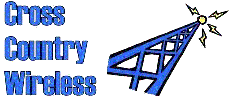 Cross Country Wireless SDR-4+ Special Edition general coverage receiver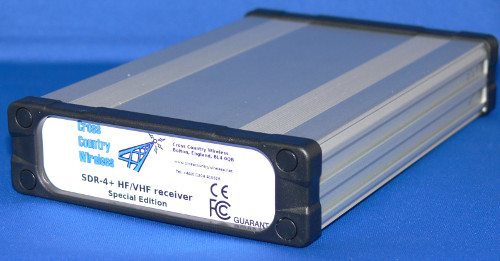 We have been manufacturing the SDR-4+ receiver for 6 years. Over that time it has had undergone a process of gradual improvement with several custom versions made for some customers.
The SDR-4+ Special Edition brings all the changes together in one high performance SDR receiver combining a high IP3 push pull RF amplifier and switching mixer with improved RF filtering and a new low distortion and noise IQ amplifier.
The SDR-4+ Special Edition is an HF general coverage SDR receiver covering from 0.85 to 70.5 MHz.

It has a Si570 low noise synthesised VFO, relay switched band pass filtering, high linearity push pull RF amplifier and a built-in USB soundcard.
Key design features include:
Antenna isolation transformer with a 50 ohm impedance input for use with coax fed antennas

RF overload protection up to 150W for 10 seconds

Extra antenna isolation when the receiver is powered down

Relay switched RF band pass filters

RF amplifier now uses the same high IP3 push pull amplifier as used in our HF Multicoupler in the receiver front end

Built-in 16 bit USB stereo soundcard gives 89 dB dynamic range. Typically 8 bit SDR dongles have 45 db and 12 bit SDR receivers have 70 dB dynamic range. The total dynamic range is limited by the sound card so the receiver has a socket to connect to a external 24 bit sound card if required

Ability to select sampling rates down to 8 kHz so that a single transmission can fill the SDR waterfall display. Perfect for on-air monitoring of broadcast stations.

3.5mm IQ audio output for connection to external high sampling rate or 24 bit sound cards

3.5mm soundcard audio output for headphone monitoring or connection to datamodes program

Built in a compact aluminium case 175 x 106 x 30 mm for full RF shielding
£189.95 (inc Tax) £158.29 (exc Tax). The PayPal button automatically adds 20% VAT if the buyer is in the UK or EU. It also adds the correct shipping cost. Customers outside the EU pay the lower (exc Tax) price.
Specifications:
Frequency range: 850 kHz to 70.5 MHz

Input impedance: 50 ohms

Clipping RF level: -13 dBm

Maximum frequency display: 48 kHz internal sound card, up to 192 kHz external sound card

Minimum discernable signal: -135 dBm

Input IP3: +31 dBm (measured with two -2 dBm carriers 12 MHz and 13.5 MHz)

Receiver modes: Depends upon the SDR software used with the receiver

Supply voltage: 5 Volts (from USB ports)

Supply current: 320 mA (from USB ports)

Connectors: BNC female (RF in 50 ohms), two USB B ports, two 3.5mm stereo jacks

Overall dimensions: 185 mm (L) x 110 mm (W) x 38 mm (H)
The SDR-4+ Special Edition receiver no longer uses "dual use" (military/commercial) devices so it can now be sold without restriction.
The SDR-4+ receiver set-up FAQ sheet can be downloaded as a PDF file here .
The SDR-4+ receiver Quick Start Guide v1.6 can be downloaded as a PDF file here .
The SDR-4+ USB driver installer can be downloaded as a zip file here . The USB installer program loads a driver certificate then the driver file so that it works on the latest versions of Windows.
The SDR-4+ setup program can be downloaded as a zip file here . This installer program stores the USB drivers in a folder C:/SDR-4+ and places the ExtIO files in the HDSDR and Winrad folders in Program Files and Program Files (x86).
This is a link to our CloudMe folder allowing the files included on the CD shipped with each receiver to be downloaded here .
The SDR program we recommend for first time users of SDR receivers is HDSDR which can be downloaded here .
Authors of SDR software programs or other radio programs can add support for the SDR-4+ to their software using the SDR-4+ interface specification.
Existing owners of SDR-4+ receivers can have their receivers upgraded to the new Special Edition specification. Contact us via info@crosscountrywireless.net for more details.
The first YouTube video is a demonstration of the strong signal handling performance of the SDR-4+ Special Edition. The receiver is listening to the background noise floor in a small gap between the strong broadcast stations in the 41m short wave broadcast band. There is a 70 dB difference between the station carriers and the background noise. .
The second YouTube video is from our distributor LAM Communications giving details of the setup and use as a panadaptor.
Contact us via info@crosscountrywireless.net