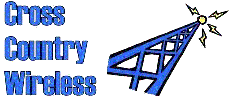 All terrain Unimog crane for off road equipment delivery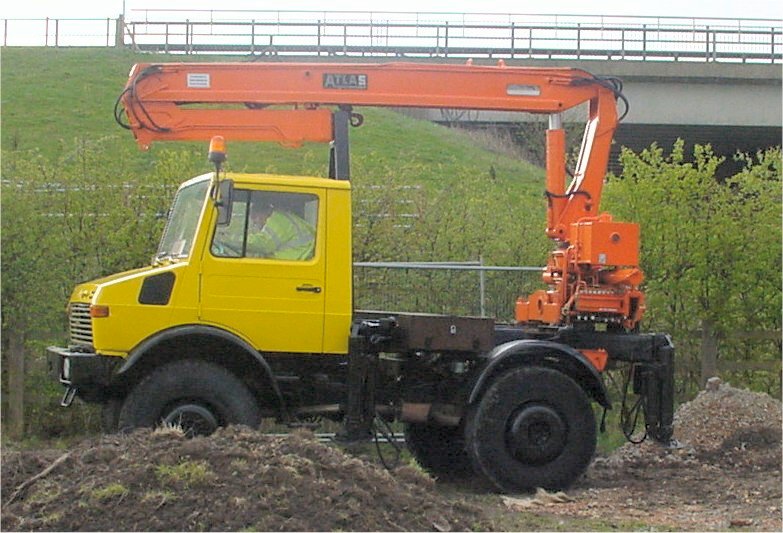 We no longer provide this service. This page is included for Unimog enthusiasts!

We use a Mercedes Unimog U1500 4x4 all terrain crane for our off road equipment delivery work and all-terrain recovery.

For those unfamiliar with the Unimog the exceptional cross country ability is aided by the following features:
Four wheel drive with 100% differential locks.

Portal axles provide high ground clearance (450 mm) under the axles.

A highly flexible suspension with coil springs and torque tubes allows impressive axle articulation.

Three point mounting of major assemblies and bodies allows torsional flexing of the chassis without restricting off-road ability.

Low pressure single tyres are fitted for maximum traction.

Air operated disc brakes are fitted to maximise off-road safety.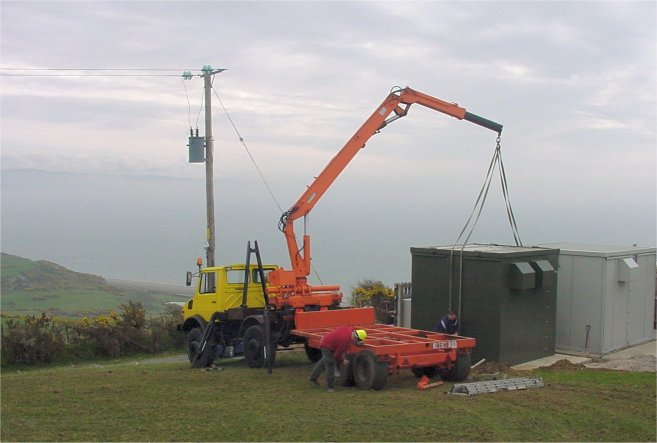 Our U1500 Unimog is a high specification industrial version of the Unimog fitted with a turbo charged direct injection diesel engine, heavy duty portal axles, a sophisticated gearbox with working and crawler gears options giving a choice of 24 forward gear ratios and a two speed power takeoff.
The Unimog is equipped with a Atlas AK4002BV 10.5 ton/metre crane capable of lifting 2800 kg at 3.85m, 1850 kg at 5.7m or 1500 kg at 7m. The crane is mounted on an Atlas heavy duty four leg base specifically designed for the Unimog.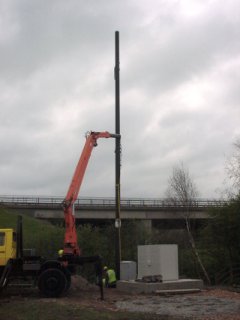 The compact size of the Unimog allows crane set-up in tight areas. The set-up area is 6m x 4m with the crane legs vertical on hard surfaces or 6.4m x 4.7m with the crane legs angled for use on soft surfaces.
It is also fitted with multiple tow hitches, trailer air brakes and three separate hydraulic circuits to drive external accessories.
This recent photo shows our U1500 at work installing a 15m telegraph pole style mast weighing 1400 kg.